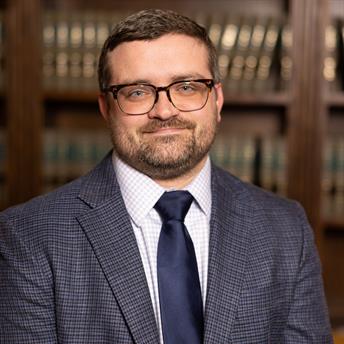 Doug Harlan Litigation Attorney
Bio
Doug began his law career by serving as a deputy prosecuting attorney in Sebastian County and Crawford County, where he prosecuted a wide range of misdemeanor and felony offenses spanning from traffic tickets and DWIs to drug trafficking and rape. During his time as a prosecutor, Doug gained a vast amount of knowledge pertaining to the tactics used by law enforcement officers and prosecutors to secure criminal convictions. After spending countless hours in various courts negotiating and trying criminal cases, Doug ultimately realized that he could best serve his community by representing those charged with criminal offenses. Having witnessed the endless cycle of reentry and reincarceration over the years, Doug believes in fiercely advocating for his clients to ensure that their rights are protected and endeavors to push prosecutors and courts alike to focus on rehabilitative alternatives over less-effective punitive measures.
Doug was selected by Doug and Cathy Norwood to join their team after learning about his experience in the courtroom and how vigorously he fought to defend his clients. Doug was inspired to join Norwood & Norwood, P.A., because of his respect for their well-earned reputation as a top-tier criminal defense firm.
After receiving his undergraduate degree from Arkansas State University, Doug went on to receive his law degree from the University of Arkansas. During law school, Doug served as UA Chapter President of the National Lawyers Guild, clerked for a prominent law firm in Fayetteville, and also represented indigent clients through the law school's criminal defense clinic. After law school, Doug worked for several years as a deputy prosecuting attorney before ultimately making the transition to criminal defense.
In his spare time, Doug enjoys writing and recording music along with spending time with his wife, two girls, and two dogs.
Education
University of Arkansas School of Law, Fayetteville: J.D.
Arkansas State University, Jonesboro: B.A., Philosophy
Professional Memberships & Affiliations
Washington County Bar Association: Member
Arkansas Association of Criminal Defense Lawyers: Member
"In my experience, those who are charged with committing a crime are often overwhelmed by the legal process and become hopeless as a result of their frustration. I strive to educate our clients on their options and to always make sure they receive the best results possible."