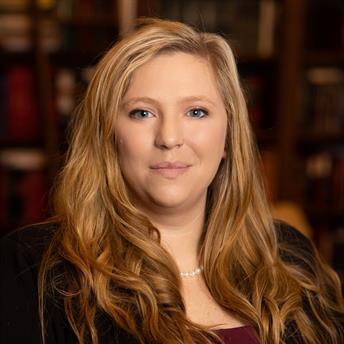 Kylie Wiley Litigation Attorney
Bio
Kylie Wiley is an experienced criminal defense attorney who has served clients facing charges from city ordinance violations to serious felonies, including sexual offenses. She has defended countless clients against thousands of charges as well as represented hundreds of clients in Northwest Arkansas specialty and treatment courts. Kylie has extensive courtroom experience, both in negotiating and trying cases, that she uses to advocate for the best outcomes for each of her clients at Norwood & Norwood, P.A.
Kylie is a long-time Northwest Arkansas resident with strong ties to the community. She graduated from Bentonville before earning an undergraduate degree in Communications and a law degree at the University of Arkansas in Fayetteville. While in law school, Kylie focused her attention on criminal law, conflict resolution, and trial skills.
Outside of work, Kylie enjoys being a part of the NWA community. She enjoys traveling, music, and spoiling her dogs.
Professional Affiliations
Arkansas Association of Criminal Defense Lawyers – Board Member
Washington County Bar Association Member
Education
University of Arkansas – BA. Communications
Leflar Law – J.D. – Medico Legal prize winner
"As a kid, I drove my family crazy questioning fairness and power imbalances. As a criminal defense attorney, I get to stand in the gap and fight for those same things every day by advocating vigorously for my clients. The system is daunting but I can help make navigating the system easier and more understandable while fighting for the best possible outcomes."